Welcome to Roundstone Records
Roundstone Records was set up primarily to promote the artist Chris Meehan and His Redneck Friends.

Ide Leddy, Percy Robinson, Ana Leddy, Francie Lenehan, Mick O' Connor, Chris Meehan, Garvan Gallagher, Sebastien Petiet, Mary Roche. Photo by Ros Kavanagh
FRANCIE LENEHAN : GUITAR MAN
Hawk's Well Theatre, Sligo. 24th June 2023
A concert celebrating 50 years in music of ace electric guitarist Francie Lenehan featuring some of the bands he has graced in that time and musicians he has accompanied including Chris Meehan and his Redneck Friends, Ray Lynam, Sandy Kelly, Brendan Quinn and Pat Ely .

Chris Meehan And His Redneck Friends
at

at the Island Theatre, Ballinamore, Co. Leitrim on Saturday June 25th 2022 as part of the "Leitrim Live" series.

Chris Meehan and his Redneck Friends are appearing at at the Island Theatre, Ballinamore, Co. Leitrim on Saturday June 25th 2022 as part of the "Leitrim Live" series. Tel. 086 867 1405


Passing of Robert (Bobby) Kelly, 5th September 2019
On the 5th September 2019 we lost Bobby. Having bravely battled serious illness for well over a year, he peacefully passed away at his home in Strandhill, Co. Sligo.

I was first introduced to Bobby in the early 70s and I believe he was instrumental in my being asked to join him the group Stepaside. While this was my first time to play in a band, Bobby was a grizzled veteran by comparison. He had been a member of several leading showbands, such as the Sands and the Freshmen, as well as Rock outfits such as the Greenbeats and the Chosen Few. He also possessed the finest singing voice of anyone I knew.

So, in 1982 when I wanted to set up a country band, which wasn't afraid to rock it up when the occasion demanded, he was the first person I turned to. It was also he who steered me in the direction the right musicians to make up the band, some of whom are with us to this day. In all his time with us he only missed one gig and that was due to illness!

Thankfully, though, he did feel well enough to go into the studio and record the first two tracks on our CD "Last train to Memphis" and his voice sounds as good as ever.

We will miss him greatly, especially his infectious sense of humour and his great ability to tell a joke.

To his wife Catherine, his sister Pat, all his nieces and nephews and his many, many, friends we extend our deepest sympathies. (Chris Meehan).



Chris Meehan And His Redneck Friends Release NEW EP May 2019
CHRIS MEEHAN AND HIS REDNECK FRIENDS NEW EP CD "LAST TRAIN TO MEMPHIS" IS ON SALE NOW AND MAY BE PURCHASED ONLINE AT CLADDAGHRECORDS.COM.
Chris Meehan And His Redneck Friends Release NEW EP May 2019
Read a review of our new EP "LAST TRAIN TO MEMPHIS" in Country Crossroads by Tom Gilmore. Click here.

We Hope You Enjoy Our New EP "LAST TRAIN TO MEMPHIS"



The Tracks

1. Last Train to Memphis (3.33) (Bobby Charles)

Barely out of his teens, Bobby Charles (b. Robert Charles Guidry) was writing hits for Bill Haley ("See you later, alligator") and Fats Domino ("Walking to New Orleans"). A close friend of The Band, Charles, was part of the line-up in the Last Waltz and appears on the record of the concert (though not the film) singing "Down South in New Orleans". In this tribute to the King, who may be gone but still lives in the heart of his people, the vocals are shared by myself and Bobby Kelly.

Solos: Brian, Francie, Percy, Chris and Eamon.

Brian and Davie

Eamon and Bobby

2. She's not you (2.26) (Leiber, Stoller-Pomus)

Many of Elvis's No. 1 hits came from the pen of one or other of the two songwriting teams who dominated this area at the time, namely Leiber and Stoller, or Pomus and Shuman. Although fierce rivals they collaborated once in a while and this song is an example of that. On a personal note, in 1981 I was living in New York and spent a good deal of time hanging out in music venues. One such venue was Kenny's Castaways, in Greenwich Village owned by Roscommon man, Pat Kenny. Every so often a familiar scene would re-enact itself there. A van would pull up outside the door of the venue, the tailgate would be lowered and a man in a wheelchair would emerge who would then be wheeled into the bar by an attendant. There was always a lot of speculation as to who this mystery man was. Someone tried to convince me that he was Colonel Tom Parker, Elvis's infamous manager. In the end it was Pat Kenny who revealed to me his identity, being that of Doc Pomus, one half of the Pomus-Shuman songwriting team. Kenny then told me a rather touching story about Pomus, who had been struck down with polio in his teens. Pat had been a guest at the wedding of Doc's daughter. Towards the end of the night she had wheeled Doc out into the centre of the dancefloor where she twirled him, in his wheelchair, round and round, while the band played his most famous song "Save the last dance for me".

Vocal: Bobby • Solos: Chris and Francie

Francie, Brian, Mick and Davie

Michele

3. Yearning (Just for you) (3.18) (Davis-Burke)

This song comes from the repertoire of Bob Wills and his Texas Playboys who recorded it in 1938. Bob Wills is credited with creating a new form of music when he combined swing jazz with country music to produce western swing or jazz in a cowboy hat as some have called it. With his top-notch band of musicians and his trademark holler of "Ah-haa!" his popularity even surpassed that of the great band leaders of the big band era such as the Dorsey Brothers and Glenn Miller. A huge influence on artists such as Merle Haggard, Willie Nelson and Waylon Jennings, who sang his praises "Bob Wills is still the King", his music has experienced a revival largely due to the efforts of such bands as Asleep at the Wheel and the Time Jumpers.

Vocal: Chris • Solos: Chris and Percy • Electric Guitars: Brian and Francie

4. Fat Boy Rag (3.08) (Wills-Barnard)

This tune was also a Bob Wills favourite and one which he composed along with his ace electric guitarist Junior Barnard.

Solos: Sean, Chris, Francie, Percy and Brian

Percy

5. Brickyard Blues (4.09) (Allen Toussaint)

Allen Toussaint was one of the greatest composer/ arrangers to come out of New Orleans. His songs have been covered by a myriad of artists. As a measure of the esteem in which he was held, he was asked to orchestrate the iconic brass arrangements which appear in The Last Waltz. It is no surprise then that we have added a brass section to this most quintessential of Toussaint's songs.

Lead Vocal: Michele • Horns: Eamon, Ciaran and Sebastien • Slide guitar: Brian

6. Baltimore Oriole (3.11) (Carmichael-Webster)

This wistful ballad comes from the pen of Howard Hoagland ("Hoagy") Carmichael songwriter supreme (as well as lawyer, pianist, band leader, screen and TV actor and all-round busy man). The fate of the wayward bird who had her wings singed in Tanjipaho serves as a warning to those who are tempted to tread the primrose path of dalliance. However, we are reassured by the knowledge that forgiveness is easy for such a "woman-like, now and then, could happen to, thing".

Vocal: Chris • Double bass: Dave • Drums: Kevin • Violin solo: Sebastien

7. Sin Amar (5.45) (non si puede vivir) (Words: Ana Leddy / Music: Chris Meehan). Copyright control.

The title, loosely translated, means that one cannot live without loving. The music tells the story of a couple whose desire for each other is matched only by their passion for the tango.

Solos: Chris, Brian, Sebastien, Ana, Ide and Mary, James

Ana, Ide and Mary (Bobby in the foreground)

8. What's the use of wondrin'? (4.16) (Rogers-Hammerstein)

This is one of the lesser-known songs from the musical Carousel and is one that is perfectly suited to Michele's sweet swinging voice.

Vocal: Michele
Piano: Seamus Brett
Double bass: Dave Fleming
Drums: Dave McCune
Violin: Sebastien

The Musicians

Chris Meehan - Piano, vocal
Bobby Kelly - Accoustic guitar, vocal
Brian Harris - Electric guitar
Francie Lenehan - Electric guitar
Percy Robinson - Pedal steel guitar
Mat Cranitch - Fiddle
Sean Regan - Fiddle
Gerry O'Connor - Viola
Sebastien Petiet - Fiddle
Davie Byrne - Electric bass
Ronnie O'Flynn - Electric bass
(on Last Train to Memphis and Brickyard Blues)
Dave Fleming - Upright bass
(on Baltimore Oriole and Sin Amar)

Mick O'Connor - Drums
Kevin Malone - Drums
(on Baltimore Oriole and Sin Amar)
Dave McCune - Drums
Eamon Murray - Harmonica, Tenor sax
Ciaran Wilde - Baritone sax
Sebastien Petiet - Trumpet
Michele Rayfus - Vocal
Ana Leddy * - Vocal
Ide Leddy * - Vocal & vocal arrangement
Mary Roche* - Vocal
* on all backing vocals
Seamus Brett - Piano
James Delaney - Piano accordion

Production

Produced by Brian Harris and Chris Meehan.
Recorded and mixed at Sonic Studios, Stoneybatter, Dublin 7.
Sound engineer: Albert Cowan.
Also recorded at Camden Recording Studios, 67 Pleasant Place, St Kevin's, Dublin 8.
Sound engineer: Jack Power.
Also recorded at The Ventry Studios, County Dublin.
Studio engineer: Dave McCune
Mastered at Master Labs, Castleforbes Business Park, 7/8 Sheriff Street Upper, Dublin 1.
Cover design by Johnny Moynihan.
Photographs by Brid Leddy. 'Sligo Live' photo by Brian Mercer.
CD manufacturing by Axis PPM Limited.
---

In the Media
Chris Meehan and his Redneck Friends are a 10-piece country band who were founded in 1982, making their debut that year at the Ballisodare Folk Festival. Writing about them at the time, in In Dublin magazine, Finbar Boyle commented "After Christy Moore's set the marquee emptied out, with the result that most of the audience missed the best act of the weekend". Later that year the band performed a series of memorable concerts at the Project Arts Centre, in Dublin with special guest Mary Black (singing Country) performing with the band.

Throughout the 80s they appeared at many festivals throughout Ireland including the Galway Arts Festival and the Cork Folk Festival, as well as featuring as the closing act each year at the Clifden Country Blues Festival. Many illustrious guest artists such as John Prine, Mary Black, Mike Scott, Mich Hanly, Freddie White and Philip Donnelly performed with the band from time to time.

Having vanished from the scene for over a decade, the band made a welcome return in 2009 with the release of their CD "Dancing in the Kitchen" produced by Nashville producer Jim Rooney who along with Nancy Griffith, won a Grammy for her best selling album, "Other Voices, Other Rooms". Reviewed in The Ticket (Irish Times) the band's album was described as "an Irish album which, with some flourish, nails the essence of Americana".

WHAT THEY SAID
"Chris Meehan and his Redneck Friends is the perfect festival band embracing many forms of music, including Cajun, Western Swing and a large helping of rock n' roll.... They line-up reads like Irish Music's hall of fame" - Rory O'Connor, Festival Promoter, Sligo Live.

"We found the band refreshing and exciting.... They captured our audiences' attention and their hearts" - Chris Keenan and Kathy Casey, Promoters of the Johnny Keenan Banjo Festival.

"The band had the crowd hollering for more at their gig in Mount Pleasant Tennis Club during the Ranelagh Arts festival. A very exciting evening. There is always a great welcome for Chris and the band here in Ranelagh" - Terry Connaughton, Artisitic Director, The Ranelagh Arts Festival.
(Above: The Band Appearing At Sligo Live 2009)

The Irish Times - Friday, September 3, 2010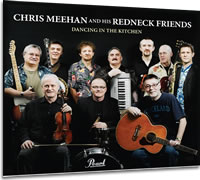 Chris Meehan and his Redneck Friends
JOE BREEN
Dancing in the Kitchen - Roundstone Records ****
This is a joyful love letter testifying to a devotion to country and blues from a bunch of rusty old geezers who clearly never have lost their gra for the music. Well marshalled by noted Nashville producer Jim Rooney, sharp pianist and legal eagle Chris Meehan and his crew skilfully negotiate country waltzes, western swing, cajun craic, jump blues, jazz and American standards coloured by a dizzying array of sharp solosby the likes of guitarists Francie Lenehan and Brian Harris, steel guitarist Percy Robinson and sax and harp wizard Eamon Murray. Meehan's song selection is bang on, ranging from the playful Diggy Liggy Lo to Percy Mayfield's profound Please Send Me Someone To Love. This is an Irish album that, with some flourish, nails the essence of Americana.

"Chris Meehan's characteristic exuberance is detectable right through this colourful collection of Country Music. There is a great natural feel to the songs and the recording carries the stamp of Jim Rooney's fresh, no nonsense production. Performed with affection and altogether charming, listening to it is a pleasurable journey" - Donal Lunny, Planxty, The Bothy Band and Moving Hearts.

"The hottest honky tonk band east of the Pecos" - Dermott Hayes, Hot Press

"As fine a bunch of musicians and entertainers as you're ever likely to hear" - Matt Molloy, The Chieftains, Planxty and The Bothy Band.